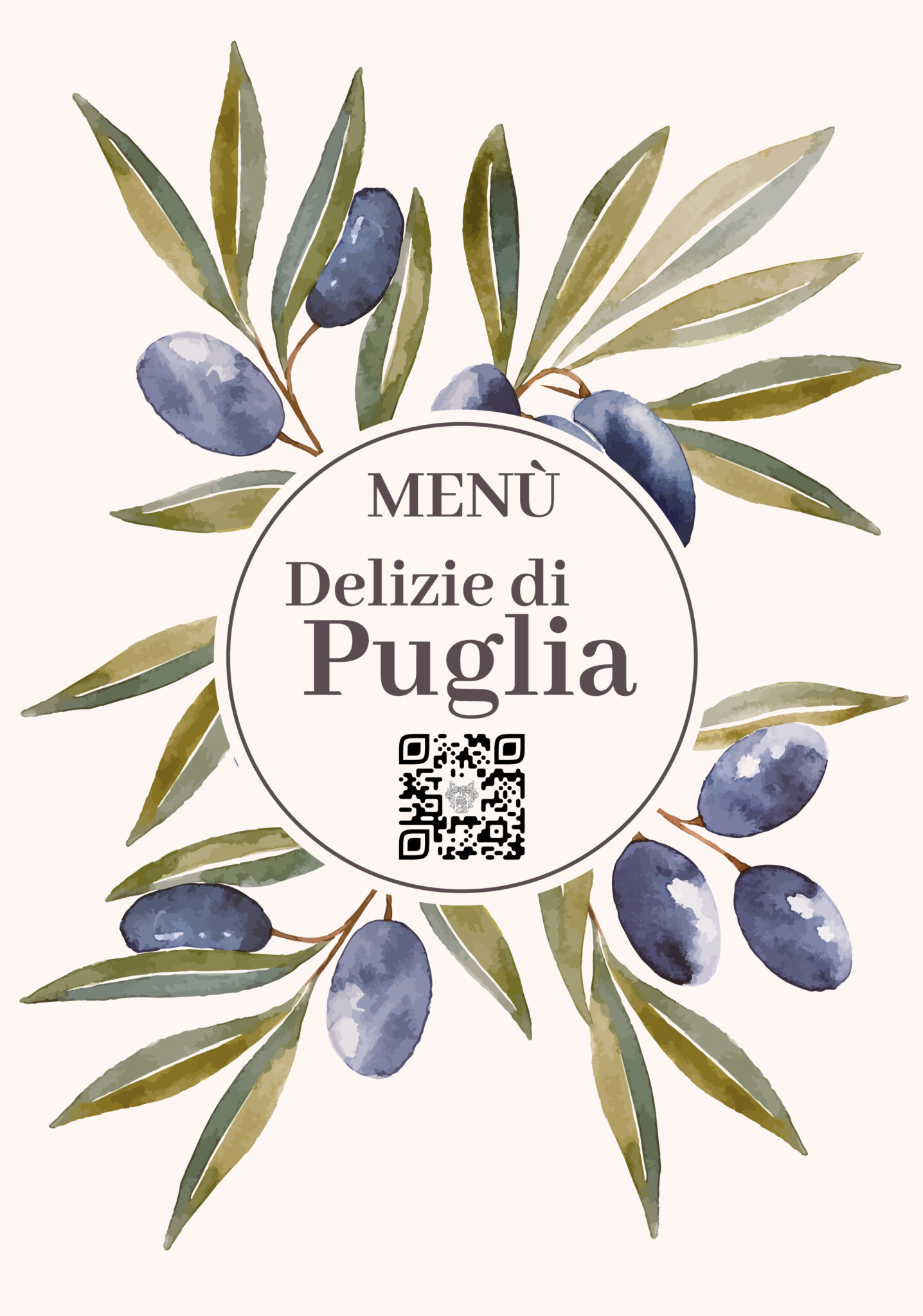 Taste the Authentic "Delizie di Puglia" at the Restaurant of the B&B Masseria Alberotanza in Conversano, Province of Bari!
If you are looking for a unique gastronomic experience, a culinary journey through the most authentic flavors of Puglia, the Masseria Alberotanza B&B restaurant is the ideal destination for you! Our exclusive tasting menu offers an assortment of traditional Apulian dishes, prepared with passion and the freshest ingredients, just like grandma would prepare them!
🌟 The beauty is that it doesn't matter if you are guests of our charming B&B or external visitors, "Le Delizie di Puglia" are available for everyone, every day the restaurant is open!
A real feast for the palate:
At Masseria Alberotanza, a welcoming atmosphere awaits you, where you can bring friends, family or enjoy an unforgettable evening alone. Our expert chefs will make you feel at home, pampering you with the cuisine of this wonderful land.
📍 Address: Contrada Gorgorenzo n. 15, Conversano, Province of Bari ☎️ Reservations: +39 3337845113
A Taste of Puglia – All Inclusive:
Our fascinating tasting menu offers you a selection of delicious Apulian dishes to choose from:
🍴 Appetizers – Starters:
Friggitelli: Cornaletti of fried peppers served with broad bean purée, an incredible explosion of local flavours.
Zucchini alla Poverella: Fried zucchini chips seasoned with olive oil, mint, salt and balsamic vinegar, a fresh and tasty delight.
Delizie del Casaro: Burratina, cave caciocavallo, mozzarella knots and Martina Franca capocollo, a selection of authentic Apulian cheeses and salami.
Parmigiana: Fried aubergines au gratin in the oven with tomato puree, basil, garlic and Parmesan, a timeless classic of the Apulian tradition.
🍝 Primi Piatti a Scelta – First Courses of Your Choice:
Orecchiette alle Cime di Rapa: Homemade orecchiette with turnip tops and anchovies, a true expression of local cuisine.
Rice Potatoes and Mussels: Terrine of rice, potatoes and mussels, a dish of sea and land that will win you over.
Orecchiette al Cacio: Orecchiette with fresh tomato puree, goat ricotta cheese and basil scent, a riot of Mediterranean scents.
🍖 Second Courses – Second Dish:
Mixed Roast, Potatoes and Salad: Roasted Apulian meat specialties: sausage, pork capocollo, bombette alla martinese, with a side dish of rosemary potatoes or salad, a succulent and tasty combination.
🍨 Desserts of the Day – Desserts of the Day:
Seasonal Fruit – Seasonal Fruit: A fresh selection of seasonal fruit to refresh the palate.
Desserts of the Day: End your culinary journey with a delicious dessert prepared by our talented team of pastry chefs.
All this for just €40.00 per person, which includes a rich selection of appetizers, a first course of your choice, a succulent second course, seasonal fruit, dessert of the day, a bottle of wine (75 ml), water, coffee and bitters.
Don't miss this extraordinary opportunity to taste Puglia in every bite! We are waiting for you at the Masseria Alberotanza Restaurant for an unforgettable culinary experience!
🌾🍷 Book your table now and let yourself be carried away in the heart of Apulian gastronomy!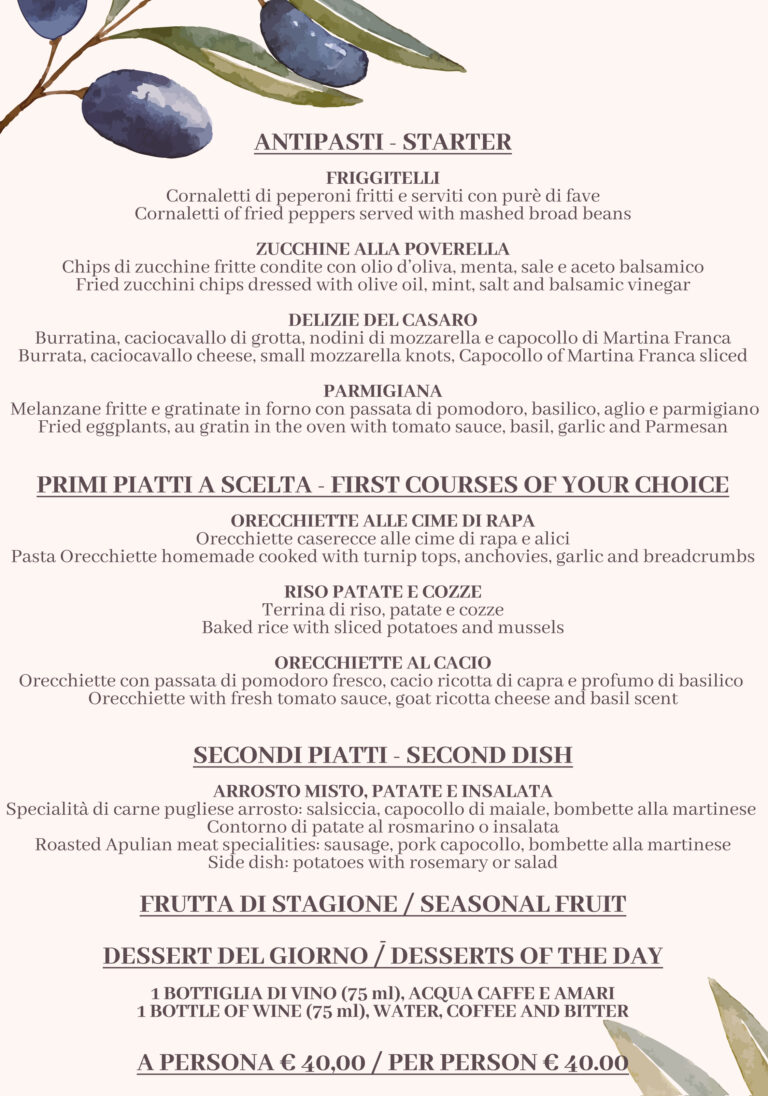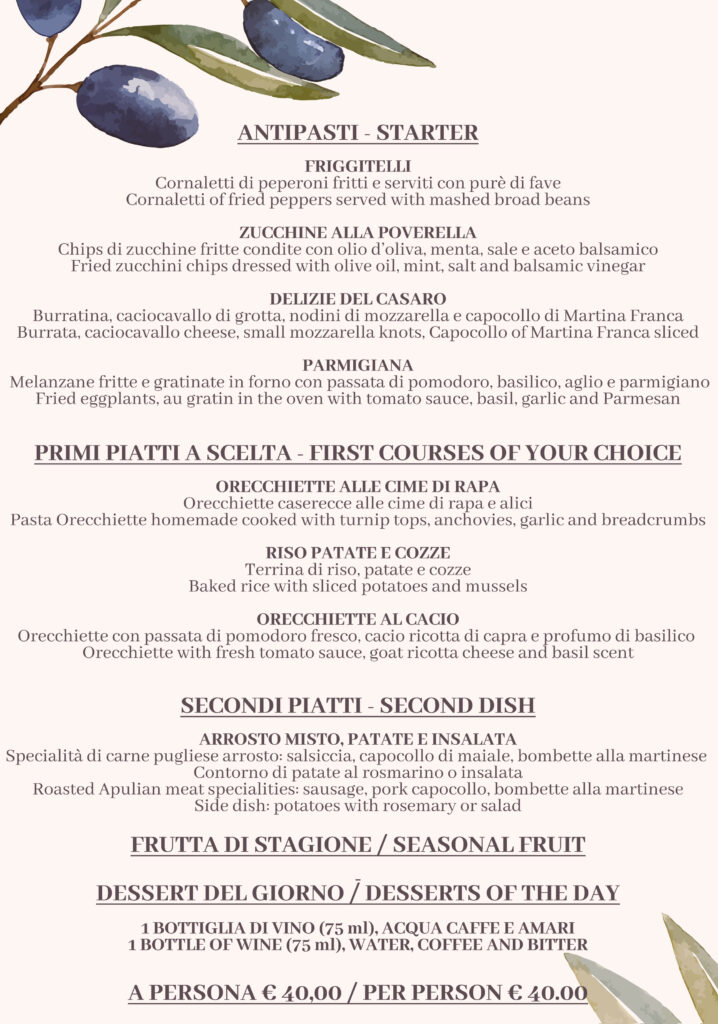 Welcome to Masseria Alberotanza: Where Tradition and Taste come together
If you are looking for a place to immerse yourself in the beauty of the Apulian countryside and enjoy authentic culinary delights, then you are in the right place. Masseria Alberotanza, a charming farmhouse located in the province of Bari, welcomes you with the warmth of tradition and a passion for good food.
Charming Rural Experience: Located among olive groves and vineyards, Masseria Alberotanza offers you a charming rural experience, where you can relax among the sounds of nature and immerse yourself in the tranquility of the Apulian countryside. Our welcoming B&B accommodations will make you feel at home, while the outdoor spaces with swimming pool and green areas will be ideal for spending moments of relaxation and fun.
A Journey into the Taste of Puglia: Our restaurant is a true oasis of taste. Our chefs prepare dishes with love that tell the Apulian culinary tradition, using fresh and genuine ingredients from our land. From appetizers to desserts, each course will be a discovery of authentic and refined flavours.
Delicious and Versatile Menu: Our menu is designed to satisfy every palate and culinary desire. From the freshness of the fish from our sea to the genuineness of the land dishes, you will find a wide selection of culinary delights. You can choose between à la carte menus or fixed-price tasting menus, both designed to give you an unforgettable culinary experience.
Special Events and Anniversaries: We are happy to host you during special occasions and anniversaries. Whether it's a birthday, an anniversary or a corporate event, our staff will be at your disposal to make the event unique and memorable.
An oasis of relaxation and well-being: In addition to the taste, Masseria Alberotanza also takes care of your well-being. You can relax by the pool, treat yourself to a regenerating massage or participate in outdoor activities to live in contact with nature.
Explore Puglia: The strategic position of Masseria Alberotanza will allow you to discover the beauties of Puglia. We will be happy to advise you and organize excursions, visits to historic villages, trips to the sea and much more to make you experience an unforgettable holiday.
Book your stay at Masseria Alberotanza now and treat yourself to moments of authentic pleasure for the palate and for the soul. We are waiting for you to make you experience a special holiday in the heart of Puglia.