Experiences to live in Puglia
The special welcome, which we are happy to reserve for our guests, distinguishes us for the services offered and the personalized proposals
Organizing stays tailored to the customer's needs is a source of pride for us
The customization service on request is an excellence of Masseria Alberotanza
In order to make your stay as pleasant and relaxing as possible, we recommend that you send your requests in advance, before arriving at the property.
Our staff will be at your disposal and will be able to suggest the places of greatest tourist attraction and provide you with all the tourist material necessary to personalize your holiday.
Upon request, external paid services may also be requested.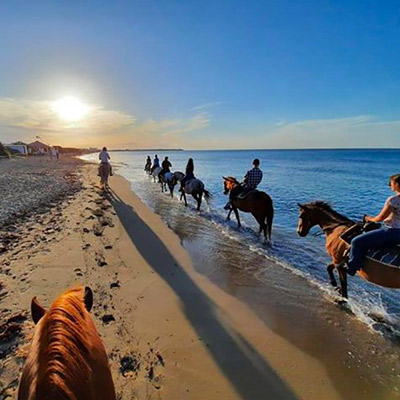 Horse riding excursions and courses
On the beach or in the Mediterranean scrub, in the saddle or in a carriage, expert or beginner, it is always a pleasure to experience the thrill of a horse ride.
With us you can also enjoy this experience.
Cooking courses and didactic Masseria
For young and old we organize fun and exciting play activities on request for unforgettable days to be lived in full contact with nature. Didactic but above all fun!
Some examples: visit to the vegetable garden and harvest, recognition and collection of wild herbs and edible flowers, pasta preparation workshop, cooking workshop with personally collected products from the earth.
Convivial lunches and dinners in which the dishes prepared together will be tasted.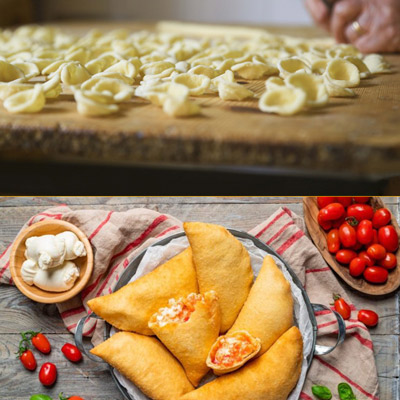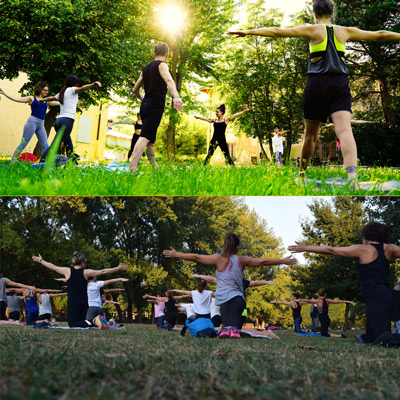 Yoga classes or your space for personal peace
Regenerates mind, body and soul.
Give yourself the chance to rediscover the bond with Mother Earth!
Personalized and diversified Yoga lessons in the morning and at sunset, as well as evening meditation experiences will be organized on request in addition to the weekly appointment.
Designed to achieve psychophysical well-being, they allow you to enjoy every moment lived with awareness of your emotions, to know enchanting places, new people, flavors and aromas linked to the traditions of the territory.
In summer it is also possible to participate in Yoga lessons in SUP in Polignano a mare!
Buggy excursions in the splendid itria valley
Among ancient farms, sheep tracks and rock churches are you ready to drive your Buggy?
Discovering the wonderful landscapes of the Apulian Murgia, possibly accompanied by an expert guide, you can experience the thrill of a one-of-a-kind adventure that will make you discover magical places in an unusual and fun journey.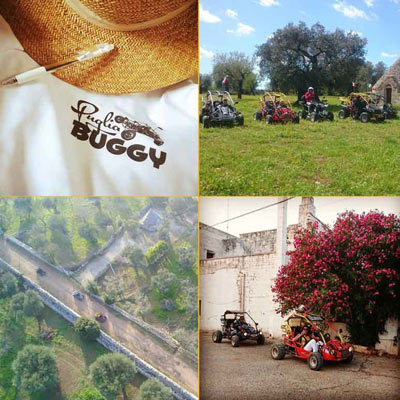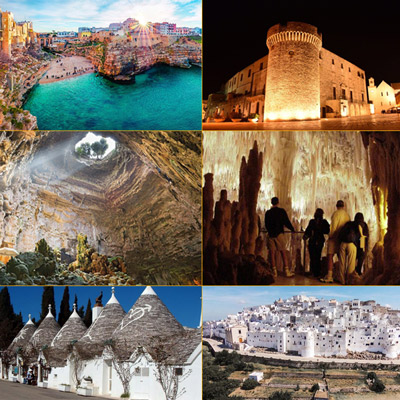 Guided tours and tastings
For all those who want to embark on a unique journey to discover Puglia and its beauties, Masseria Alberotanza is the ideal place!
In fact, our farm enjoys a strategic position for those wishing to visit the enchanting villages of the area and discover its historical traditions.
The sea, the archaeological parks, the Itria Valley, Salento, Matera and many other points of attraction are located a few kilometers away from the Masseria and are easily accessible by car.
The staff of Masseria Alberotanza, with the collaboration of professionals, organizes excursions and guided tours to the main places of interest or even just useful advice on what to do and how to visit places of interest.
Tours, days on a boat, SUP and KiteSurf
Masseria Alberotanza organizes for sea lovers guided tours in the most beautiful and characteristic Apulian small boats, including transfers and meals.
For the more sporty and for lovers of sea sports: school specializing in water sports, Kitesurfing courses, excursions and training in Sup / SupRace Surf Lesson / rent surf, Wing – qualified FISW-IKO instructors.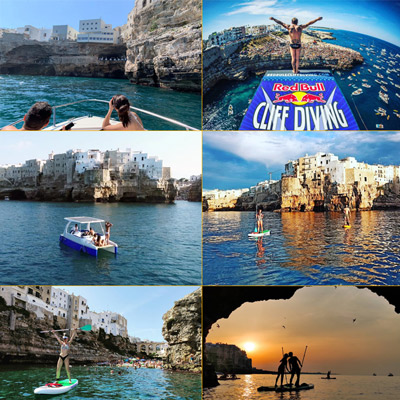 With us it is also possible to practice
BIKE
Free bicycles available at the property
SWIM
relax or train in our swimming pool
RUN
In the nature of the lakes reserve
TREKKING
Explore the best hiking trails in Puglia
.