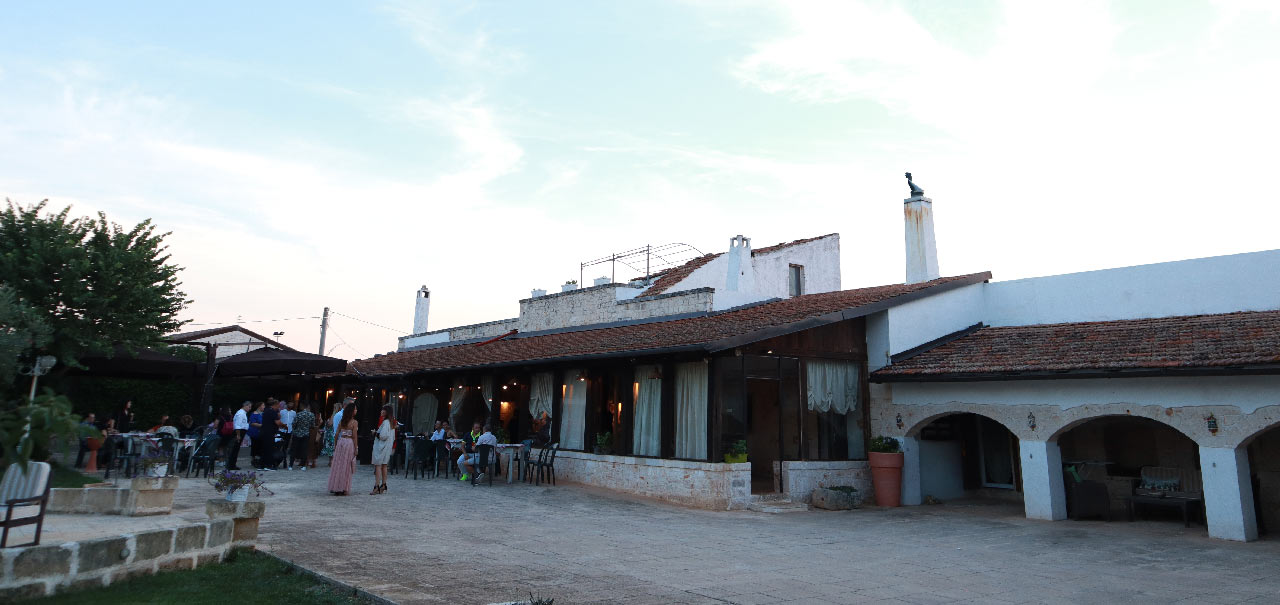 Lunch on Sunday 8 October 2023
Dear friends of the Masseria Alberotanza farmhouse, we have prepared a special Sunday lunch for you! A unique culinary experience that will lead you to discover the authentic flavors of our land. Here's the menu:
APPETIZERS
Zucchini pancakes
Chef's Focaccia
Selection of cured meats with local cheeses
Courgette flowers in tempura
FIRST
Capunti with cardoncelli mushrooms and local sausage
Primitivo risotto and stracciatella
SECOND
Sliced podolica with cherry tomatoes and rocket
SIDE
Cardinal baked potatoes
SEASONAL FRUIT
SWEET
Dirty mousse
DRINKS
Primitive wine from Manduria
Waterfall
Coca Cola
Caffè
Amari
Prices:
Adults: €45.00 per person
Children's menu: €25.00
Book your table now to ensure an unforgettable lunch with the flavors of Puglia. We look forward to seeing you on 08/10/2023 at our Masseria Alberotanza in the province of Bari.
Thank you for your trust and support. We can't wait to delight you with the delicacies of our cuisine!
For reservations, call +39 3337845113
#MasseriaAlberotanza#PranzoDomenicale#SaporiDellaPuglia#BuonAppetito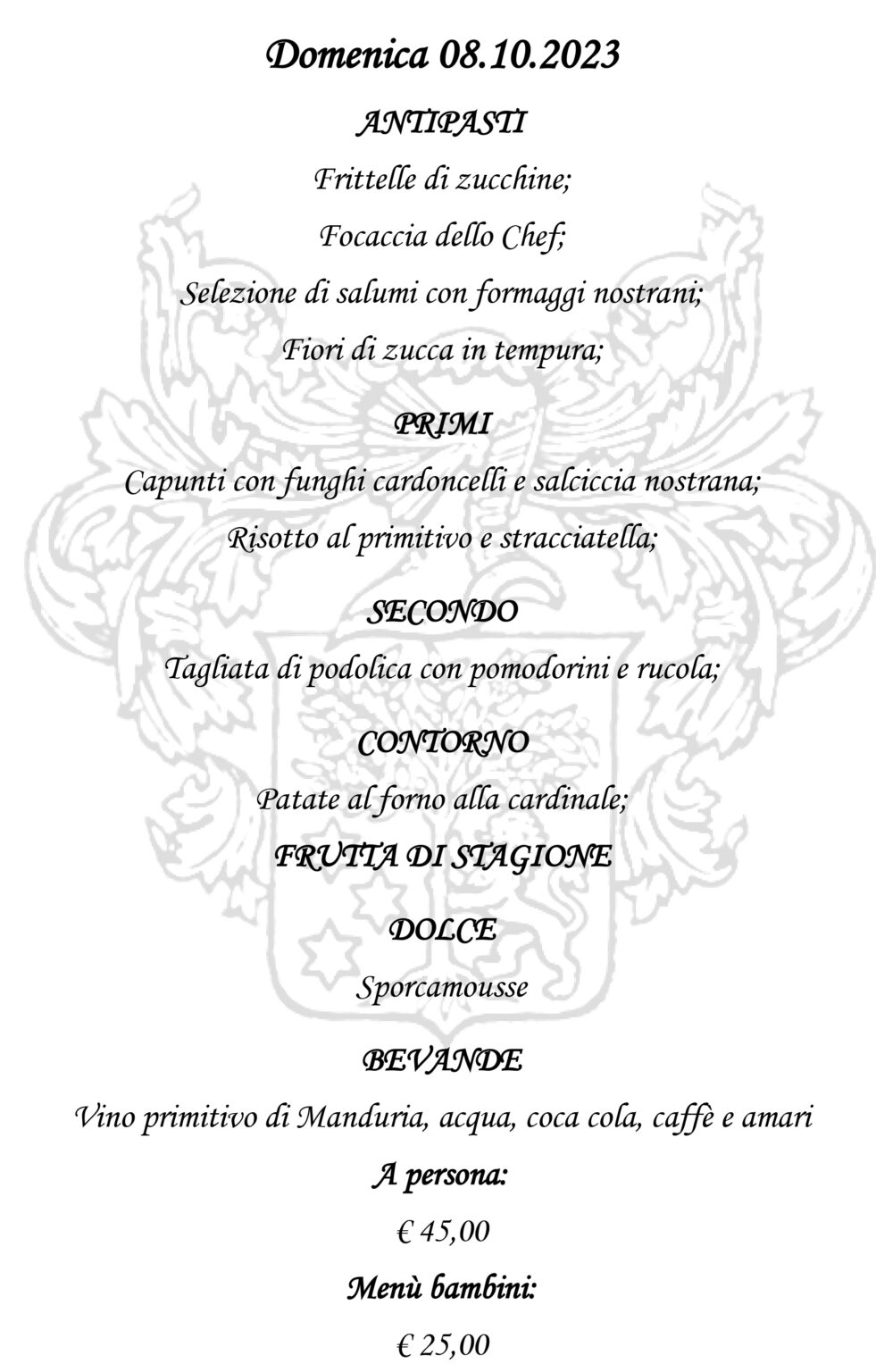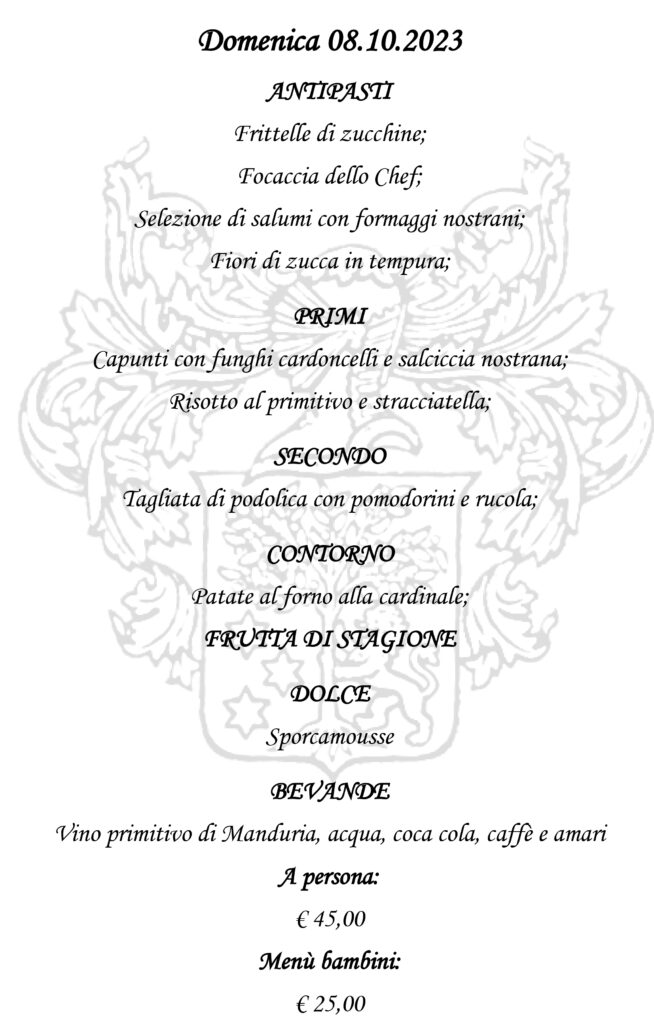 RELATED ARTICLES
---
---
[wpseo_address id="0″ hide_name="false" hide_address="false" oneline="false" show_state="true" show_country="false" show_phone="true" show_phone_2="true" show_fax="true" show_email="true" show_url="false" show_vat="false" show_tax="false" show_coc="false" show_price_range="false" show_logo="false" show_opening_hours="false" hide_closed="false"]